LIFE AFTER DEATH DENIM TAKES SUSTAINABILITY TO ANOTHER LEVEL- Eat Sleep Denim 
Denim designer Mary Bruno has a long history of designing jeans, so she was quite aware of the environmental damage resulting form the denim industry. She started her career at Levi's, and worked her way up at various brands including Earl Jean, Ralph Lauren, and eventually became head of design at J Brand. Quite the denim resume!
With all that experience came a deep knowledge of the making of a pair of jeans. One thing she discovered was that warehouses all over the world were storing leftover fabric and trim (mostly cotton and polyester). It was just sitting there, taking up space. Bruno is now buying it up and recycling the so-called headstock fabric to make Life After Death denim products.
The brand also uses sustainable fibers including hemp and Tencel whenever possible. Buttons and hang tags are made from scrap motor oil tins. Zippers and pocketing are made with recycled elements, and unnecessary paper and plastic packaging is eliminated.
Plus, the designs look pretty great! 
The New Eco-Friendly Brand Everyone's Talking About - The Jeans Blog 
Life After Death Denim – The hot, Eco-friendly jeans brand
There's a new premium denim brand on the market and it's different to what we usually share! Life After Death Denim is a new company founded out of the USA and it's completely Eco-friendly! Think recycled fabrics, no chemicals, 85% less water wastage… and the best thing? The designs are hot, on trend and you couldn't tell them apart from our regular denim brands that we love, so you can put that voice that says "recycled denim isn't as nice" to the back of your mind! As it's Earth Month right now, what better time to start doing your part for the planet. We caught up with Mary Bruno to find out more about the brand and how it works. Check out the interview below!
Click here to shop Life After Death Denim – Plus get 30% off this month with their email signup.
The Jeans Blog – So tell us about Life After Death Denim!
Mary – Life After Death Denim manufacturers premium denim and clothing made using fabrics woven with recycled yarns. We have cut up vintage and recycled camouflage jackets to create our labels. We up cycle things like used army tents and turn them into jackets. Based in Los Angeles and manufactured solely in the United States, we wash and process our denim utilizing the most environmentally friendly methods available. Water consumption is reduced by 85% on average. NO bleach, NO stones, NO enzymes, NO resins. Our denim washes are entirely chemical free.
Each Life After Death Denim garment is truly unique for color and placement – no two items are the same. We search the globe for fabric mills that have invested in recycled and sustainable fabrics utilizing recycled yarns and sustainable fibers such as hemp. Our hardware is made of scrap tin from motor oil cans – yielding an eclectic mix of colors, graphics and verbiage. Our interior labeling, zipper tape and pocketing are all made with recycled elements. We have reworked packaging and shipping of products We choose methods that are based solely on what is best for the environment, not what is easiest or less costly. We consider what is best for the environment when we make every single decision.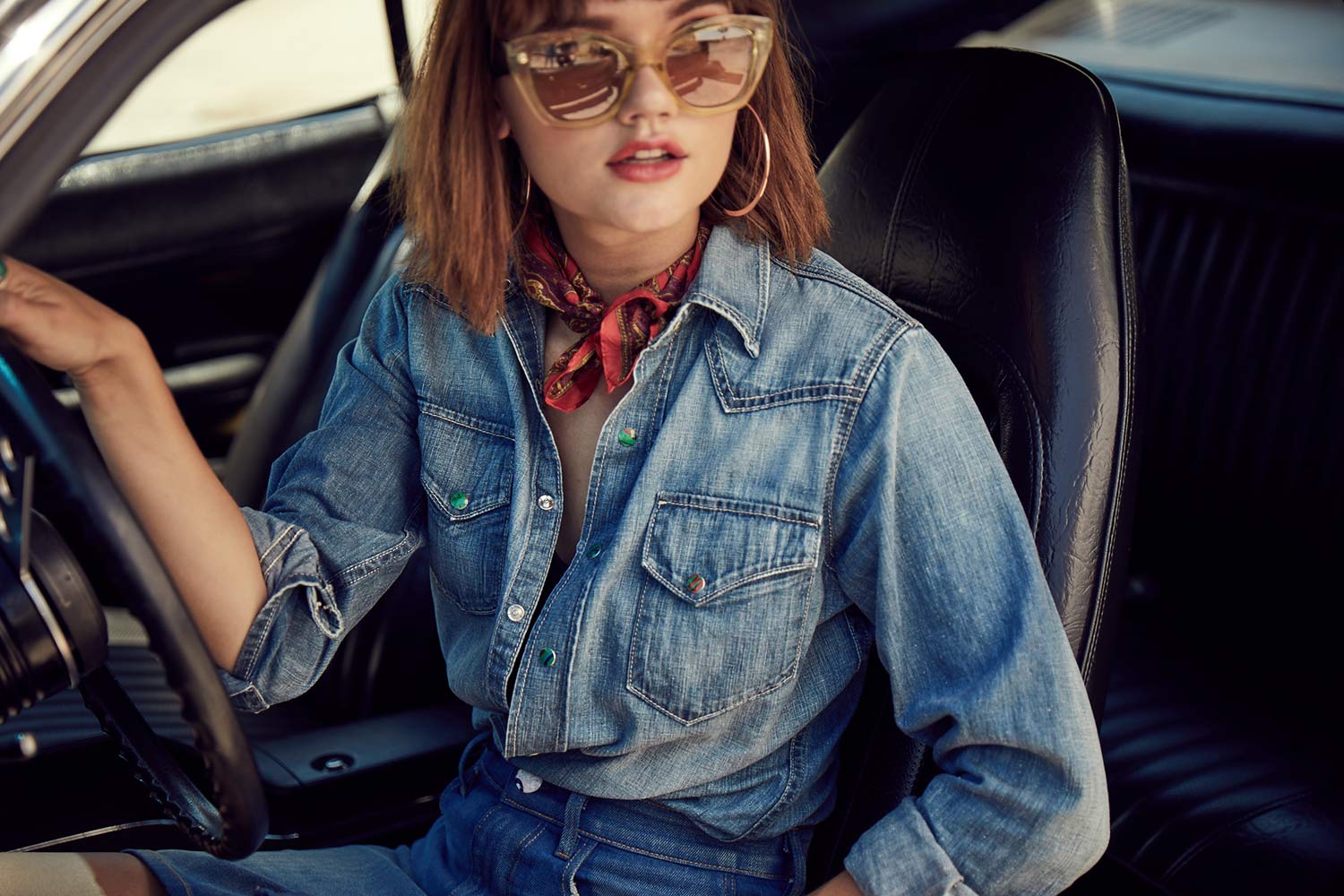 What inspired you to create the brand?
On more occasions than I can recall, I sat in an audience with other designers listening to panel discussions about sustainability. The conversation about sustainability in manufacturing has been talked about my entire 25 year career. As someone who designed for big American brands, I remember thinking that it's nearly impossible for brands to communicate sustainability to their consumers. They already have so many brand messages that they are trying to talk to their consumers about. I truly believed that in order for sustainability to become important , it needed to be baked into the DNA of a brand. Denim is an iconic American tradition but the manufacturing of denim continues to waste natural resources and damage our environment. I believed there was a way to make denim differently and wanted to give it a shot.
What a great idea! What's your own personal history with denim?
I bought my first pair of Levi's at 17 and was fascinated with the process of trying to antique and wear down denim. I spent the past 25 years designing for some of the most iconic American brands – Levi Strauss, Ralph Lauren, Earl Jean, RRL and J Brand. I have designed men's, women's and children's denim. I have developed denim all over the world in more than 15 countries. I have designed denim that sells for $25 – $2500. Pants, tops, jacket, skirts, dresses, you name it. I have tried it. I have approached it from every angle. I guess I was in search of a new way to approach denim.
Wow, now that's a history! What sets you apart from the other brands on the market?
Life After Death Denim has made a 100% commitment to sustainability. Every choice we make puts that priority first. It's about our priorities over profits. Our fabric, our washing, how we ship our garments, how we package them, where the buttons come from, where the zippers come from, where the pocketing comes from, how those components get to us, what the labels are made of, what method of transportation was used to get it here, every detail is thought about. Sometimes it may take us a little longer or cost a little more, but we know why we are doing it. We believe in it. Making the right choice is part of our DNA.
You have a very green brand on your hands, what was the process like getting all of that perfected?
It initially started as a passion project for me. Something to work on between jobs. California was in the midst of severe drought and denim washing uses thousands of gallons of water to wash the fabric, so I wanted to challenge myself to see "could denim be made without any chemicals and a lot less water?". Fabric mills had been showing fabrics made with recycled yarns for years but brands couldn't afford the more expensive fabrics and retailers didn't believe their customers would pay more for sustainability. "Could I create a denim line using only fabrics woven with recycled yarns?"
I went to the best denim mills in the world and they all had recycled fabrics. It only took me a few tries to get a 100% chemical free washes that I liked. Sadly the first laundry I developed the processes with, was sold so I started again. Then the second laundry I developed chemical free washes with changed their business model and they no longer were working with new brands. So I started again. The good news is, I know the process translates to many different laundries.
It sounds like you never gave up. Was it easier or harder than you thought being so Eco-friendly?
We chose doing what's best for the environment as a guiding principle and the rest fell into place. We started out with a brand mission statement from the very beginning. Life After Death Denim aspires to pioneer environmentally appropriate denim development for the next generation of denim brands. We will use our knowledge, creativity and only the most modern and environmentally safe methods in manufacturing to create authentic vintage denim looks for women and men.
It was so simple. Starting a brand, establishing a corporation, securing funding, establishing trade marks etc. those things were difficult. Making sustainable denim, was easy. The hardest part was selling a beautiful old convertible sports-car and replacing it with an electric hybrid. I knew I needed to walk the walk if I was going to talk the talk. I hated selling my car but I knew I needed to. It still breaks my heart a little every day but I knew it was the right thing to do.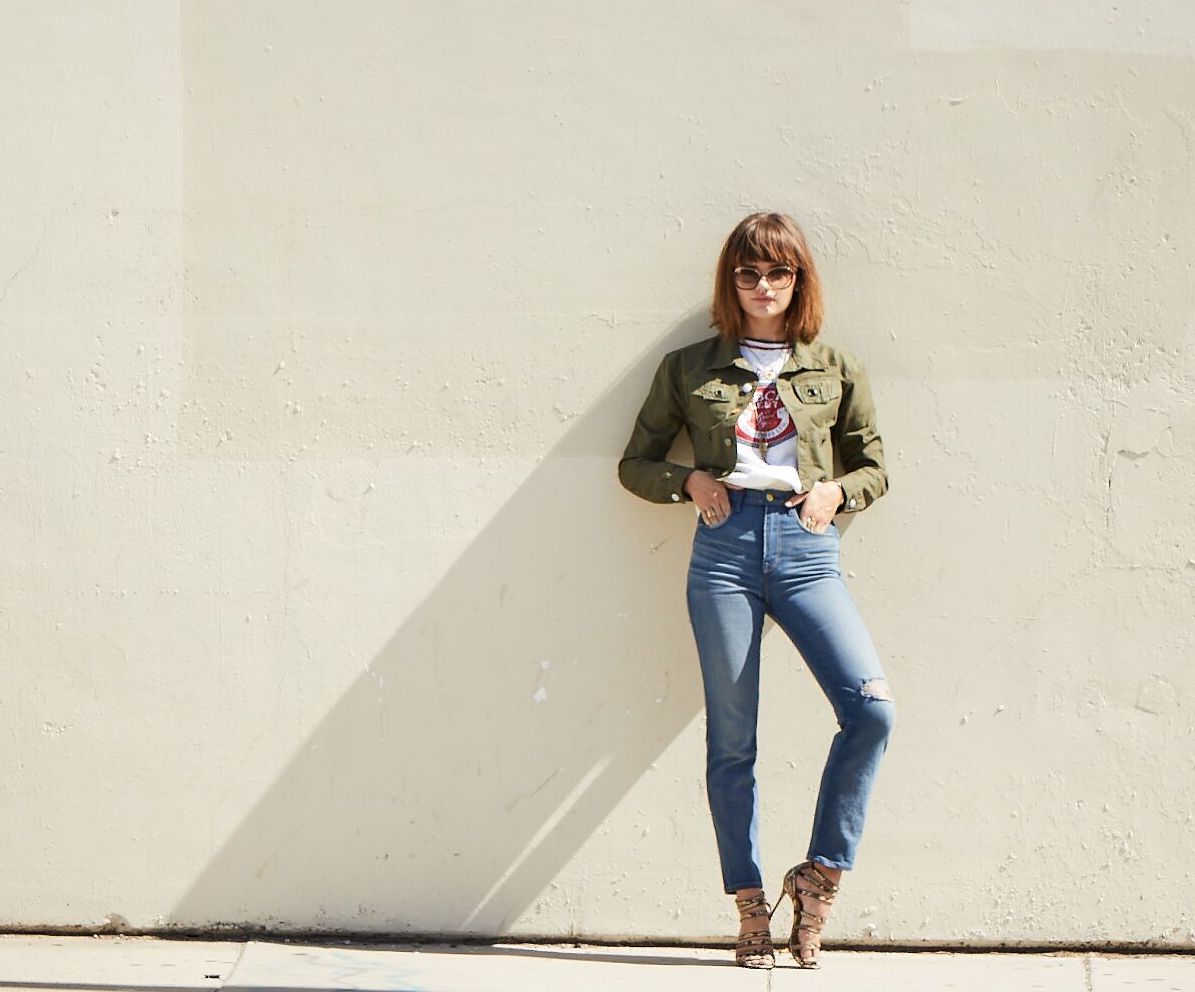 Where do you source your materials from? Has being Eco-friendly impacted any of your original ideas?
Our denim fabrics come from Italy, Turkey and China. Our knits and fleece come from the USA. I picked the best ones on the market at the time. The biggest challenge is getting things to feel soft. That is an area where I have had to adjust my expectations a little.
As you said, so much water is wasted during denim manufacturing and a lot of chemicals are used, do you think that the industry will follow in your footsteps?
It is crazy how much water and chemicals are used to wash denim. The industry is really trying but a lot of it comes down to cost. Brands don't think retailers will pay for it and retailers don't think consumers will pay for it. I don't believe that's true. I think consumers are very smart and very aware. I think that for the most part, consumers really have no idea what the true cost of making great denim is. They don't know that it can take 1500 gallons of water to wash one pair of jeans. I think there are a lot of consumers out there that would pay $50 more for something knowing it's made with recycled elements, washed without stones or the use of any chemicals whatsoever. The fact that 85 – 95% less water is used to process our denim is huge. A small brand like ours won't move the needle that much but when bigger brands start seeing that it can be done, I believe they will commit too. A lot of them have made commitments but their business model is way more complex.
What's your favourite jean you have designed so far? I love the skinny in Zest!
LOL, funny you should mention that, "it's been our best seller" We keep getting re-orders on it. I have been designing denim for quite some time and my personal collection is quite robust. I am usually looking for new fits and washes. I love the Chop Boot in Principle black. All of our jeans are very high rise and are made for women with curves. We also have a large size offering from size 2-20. We have had a lot of customers who are size 12, 14, 16 who can't find premium jeans to fit saying "finally, thank you!"
That's great you offer such diversity! Who would be your ideal customer?
A woman who understands her buying power. A woman who wants to support brands that support her beliefs. A woman who thinks about the impact on the environment when she makes her buying choices. Our women are a little tough, a little sexy but with a cool California girl vibe.
What do you envision for the future of Life After Death Denim? Will there be a men's collection?
Yes we will add men's. We started with denim but we intend to expand to other product categories such as bags, shoes, jewelry and eventually home. We have a lot of ideas for up-cycling vintage and dead-stock items for the home. We want to do it right and stay in touch with our guiding principles. We want to continue to make in the USA because we need to keep a close eye on our products so we know we are giving consumers what we promised. Los Angeles is a mecca for denim brands. Most of the best premium brands come out of LA. All the expertise in denim is within 10 miles of us.
Thank you so much, Mary! I'm sure everyone will love Life After Death denim!
Click here to find out more about Life After Death Denim
Life After Death Denim Truth High Rise Skinny Jeans Review- THE JEANS BLOG -May 19,2018 
Life After Death Denim Truth Skinny Jeans in Zest Review
It's been a little while since I shared a denim review with you, but I'm excited to break that hiatus with something new! Do you remember when we introduced you to Life After Death Denim? We did an interview with Mary Bruno, the founder and designer of the brand, so if you missed it, you definitely have to check that article out! To explain a little bit about her brand in short though, Life After Death Denim is a new company founded out of the USA and it's completely Eco-friendly! This includes recycled fabrics, no chemicals, 85% less water wastage… so it's a brand that's doing good as well as looks and feels good! If you think recycled/eco-friendly jeans can't be nice or that the fabric must feel like cardboard, I can put your might at rest right now and say they are super smooth and soft – you wouldn't have any clue! This is why I'm happy to share this review with you and talk about something a little different for a change! So, lets get to it!
The Fit – The cut of these jeans is called Truth and they're a high rise skinny jean. Featuring an 10.5″ front rise, a 15″ back rise, with an inseam of 28″ and a leg opening of 12″, you can see they're an ideal fit for being flattering. The rise is absolutely perfect as you can see on my photos, it comes up to a great height and it hides any muffin top! Being short though, I've had to crop these jeans a bit as you all know I struggle to find short enough inseams for me. My regular inseam to hit my ankles is around 26″, but these come up at 28″, so if you're not short like me, they will be perfect! With a wider leg opening of 12″, I think they're designed to fit a bit cropped on the calf, but I'm usually used to something around 10″ for an extra slim fit.
The back pockets (the first place I always look on jeans) are wonderful too. They can always be hit or miss as sometimes they're too small, too big, placed too high etc, but Life After Death Denim have got it just right. As you can see, they're slightly angled to follow the curve of the butt and they're plain, which enhances it. Overall, I'm quite pleased with the fit and back pockets, it's just the length, but that's something I always have to contend with.
The Size – I took these Truth Skinny Jeans in a size 28 as I wasn't sure with a new brand whether to opt for a 27/28. I think I could have fit a 27 as well, but they would have been quite tight as the 28 is just right. I liken the sizing to MOTHER actually or J Brand, so if you know your size in either of those two brands, you should be about the same in Life After Death Denim.
The Fabric/Wash – Now this is the good part! These jeans are made from a blend of imported Italian sustainable fabric, which contains: 47% MicroModal, 46% Cotton, 5% EME and 2% Lycra. It's an ultra-soft denim with a smooth stretch to it. The Zest wash is made with a chemical-free wash and 85% less water than traditional denim washes, making them even better. I have to say that even normal premium denim jeans are not this soft and smooth when you rub them! I've noticed just how soft they are as I keep rubbing my hands on the fabric on the front of the thighs – it's silky!
The denim itself is really thin and lightweight, with a really good amount of stretch to it. You can always tell the stretch amount by the creases/wrinkles on the worn photos. They're incredibly comfortable and so easy to wear, moulding to your body, so I haven't been uncomfortable once while wearing them – always a good sign. The Zest blue is a pretty mid to light blue with fading and whiskering around the lap and thighs, as well as honeycombs on the backs of the knees. It's very nicely done and actually reminds me a bit of my Hudson Barbara in Hideaway (which I've lived in for 2 years).
The Details – As these jeans are quite minimal, the only details I can point out belong to the button, which is engraved, the flower embroidery on the coin pocket, and the LIFE back patch on the top right. The pockets are plain as I mentioned (how I like them) and there's no garish branding anywhere. They come with a metal hang tag as well, which is made from recycled metal.
Overall Opinion – As these jeans are $285 and made in Los Angeles, California, they are on par with all of the other premium denim brands out there, however they have a difference. The fact that Life After Death Denim is doing its bit for the environment and leading the way for the future of the denim industry speaks volumes to me. It's great to have a wonderful ethos to a brand, but if your product doesn't live up to the expectation, it's no good. I can safely say that these Truth High Rise Skinny Jeans in Zest are wonderful. I like the fit (just need a shorter length for myself and a narrower leg opening), I love the fabric as it's so soft and stretchy, and the wash is really versatile and summer ready. I can't really say I have any faults with them at all as my leg length is nothing to do with a brand. So, if you're ready to try something new and want to opt for denim that's environmentally friendly, I definitely recommend this exact pair! You can currently get 30% off with an email signup as well at the moment until the 31st May. What do you think of these jeans?
Buy these Truth Skinny Jeans at Lifeafterdeathdenim.com for $285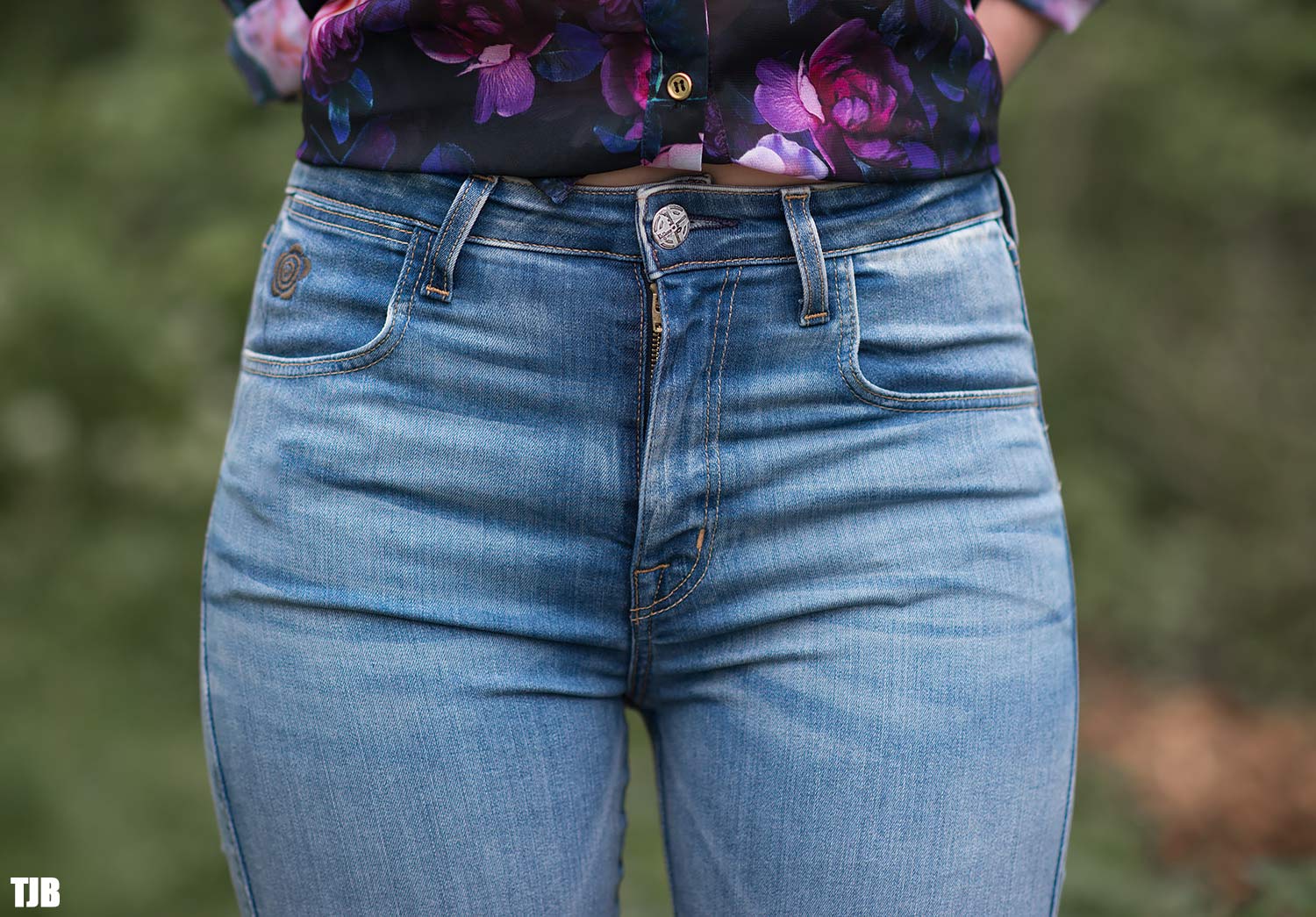 Here are the jeans modelled on the website fit model in size 25 so you can see a full length fit.
– Jeans courtesy of Life After Death Denim / Opinion all my own.
A lovely collaboration with Life After Death Denim.
Introducing: Life After Death S/S '18 Lookbook
Fashionably sustainable and Made in LA
And the good news is that there is a new SUSTAINABLE denim brand just launching: Life After Death.
Life After Death Denim produces premium denim and clothing made of 100% recycled, sustainable, and/or dead stock components.
Here is what the owner and designer, Mary N Bruno, tells us about her brand:
"Made in LA sustainable denim brand using recycled fabrics and components. I have worked with local laundries to develop wash processes that use 85% less water and zero chemicals in the wash development process. I am a seasoned veteran of the denim industry and have lead design teams for some of the most iconic American denim brands like J Brand, Ralph Lauren, Earl Jean, and Levi Strauss during my 25 year denim career."
"Each Life After Death Denim garment is truly unique for color and graphics. No two items are the same. We search the globe for mills that invest in sustainable fabrics utilizing recycled yarns and sustainable fibers such as hemp and Tencel. Our hardware is made of scrap tin from motor oil and paint cans – yielding an eclectic mix of colors, graphics and verbiage. Our interior labeling, zipper tape and pocketing are all made with recycled elements. We even upcycle vintage camouflage jackets to make our labels."
The first collection is intended to be a mix and play on proportions – a little sexy, a little tough – but always with a California cool girl vibe. Who says sustainable can't be sexy?
Their first seven piece release in 2018 contains denim, fleece and jersey tops as well as an upcycled Army Tent Jacket.
After having checked out the Life After Death (rad brand name for denim that has been recylced!) we asked Mary:
We are curious about the fact that most of the new and totally sustainable denims come in practically the same washes as the "regular" not environmental friendly ones. Where is the catch? Why doesn't everybody do sustainable then?
Mary answered us:
"That is the question!! Why isn't everyone doing it.
It's more time consuming and expensive to do washes without the use of traditional chemicals , stones and lots of water . The traditional way is also what manufactures know how to do.
I look at how the food industry has changed. How the expected norms in food processing have completely evolved. Over time that industry convinced everyone that natural and organic foods were better and worth the cost.
Even though there are still companies making food with unnecessary chemicals, eventually that way of processing will become a thing of the past. I'm hoping the same will be true for the denim industry. Eventually the old way of washing denim will be a thing of the past. It's a guiding principle for our brand to inspire the next generation of denim brands to channel their creativity and knowledge to change the way in which jeans are made."
Mary had sent me a pair of the black distressed jeans to try on, and I must honestly say that if I didn't know better, I would never notice any difference in their black wash from all other distressed blacks (not sustainable) that I own. Super soft, molding the hips and the hi rise fits perfectly at the waist. The jeans run absolutely true to size. And while I am at it, I also really loved their label which is not made of leather. Instead they are using a recycled camo fabric, super edgy, an each label is different – see below.
For now, you can purchase Life after Death denim on their website and we will keep you updated when the collection will be available at other retailers as well.
From working at Levi Strauss and Co. to learning the denim craft from other leading brands, to developing her own collection, Mary Bruno, 
the brains behind Life After Death Denim, has spent 25 years learning and loving the industry.
For her, denim has a life of its own, it can evolve, become worn, take on new traits—and that's part of what makes it such a beloved product, both by Mary and the masses.
But taking what she found was missing in the market, Mary made Life After Death Denim about sustainability too, using recycled and dead stock components to make the jeans, and a wash process that uses less water.
Carved in Blue spent some time with Mary to understand a little bit more about her perspective on where denim's been, where it's come to and where it's going.
Carved in Blue: After your 25 years in the market what do you still find intriguing about denim? 
Mary: For me denim has always been a living breathing thing. I continue to love how it changes over time. It can be manipulated, sculpted and forced into so many things. But on the complete flip side, if you leave it alone it will just change on its own over time. I love that it's clothing that has a mind of its own.
Carved in Blue: Why did you start your own collection? What did you feel was missing in the market?
Mary: I have been lucky to work on so many amazing denim brands in the last 25 years. I was feeling like I had something to say in denim that wasn't being said. For years I sat in audiences hearing about the importance of sustainability in denim. How bad denim manufacturing was for the environment. I heard many options about what we as designers could do to create change. Brands were always interested in sustainability but I believed it couldn't be a secondary brand message for any brand and be important. I knew sustainability had to be baked into the DNA of the brand to make a difference. I wanted sustainability to be the guiding principle of the brand and see where that led me.
Carved in Blue: What does a sustainable jean mean to you? 
Mary: To me, a sustainable jean needs to be sustainable in every way possible. From the fibers, to the yarns, to dyeing techniques, weaving techniques, your trims, the method of shipping you used to get your fabric to you, the need for packaging, eliminating the use of chemicals, reducing the amount of water you use in processing. A sustainable jean has to be re-thought in every aspect.
Carved in Blue: Where do you get your fabrics?
Mary: I focus on working with mills that used recycled and sustainable fibers in additional to sustainable manufacturing processes. When I first started building the brand it was more of a challenge to find good fabrics.
Luckily, there are a lot more options now to choose from. I work with Isko, Prosperity and Candiani primarily for denim and use SAS Textiles for knits that are based in LA.
Carved in Blue: And what made you turn to TENCEL™ Lyocell branded fibers?
Mary: I was attracted to TENCEL™ Lyocell fibers initially because of how soft and cool it feels against the skin. But after digging a little deeper I began to understand more about its sustainable properties. The fact that it starts out in nature and the solvent used to make TENCEL™ fibers is recycled by almost 100 percent. I also love that it's biodegradable. Landfills all over the world are filled with tons of clothing. If we are going to keep making new clothes we need to find a responsible way to deal with the old ones we no longer need or want.
Carved in Blue: Where can we find your line at retail?
Mary: We are selling direct to consumer on our website www.lifeafterdeathdenim.com and there is also a great store near Miami, Tupelo Honey. They are a great group of stores in the Miami area and the owners Ira and Gail are pros at denim. They have owned denim stores for decades.
Carved in Blue: You have lived and worked on both coasts—how has this influenced you?
Mary: I think experiencing both coasts has made me a more thoughtful designer. I think a lot about a lot more about function when I design now. I think more about what a person's life is like, what they are doing, where they are going, how they move through their day. The fit, the shade of blue, the feel of the fabric, what kind of shoes they wear, all of it is so important when it comes to making great denim.
Carved in Blue: We'd love to learn a little more about you—If you weren't in the denim business what would you be doing?
Mary: Wow, that's a tough question. I became a designer because I loved sewing and making clothes. I have never done anything else. I would love to design and build furniture someday.
Carved in Blue: What's your favorite denim city for inspiration?
Mary: I feel like a traitor to New York saying this, but it has to be Los Angeles. The weather lends itself to denim every day of the year and the vintage inspiration at the Rosebowl is never ending. It's one of my favorite things to do on a Sunday.
Carved in Blue: What pair of jeans have you owned the longest? 
Mary: I have a pair of Levi's Cap E's that I washed in a commercial laundry in Texas in 1992 when I was first working at Levi Strauss and falling in love with wash development. I definitely overdid it on the chemicals and the jeans have shredded and fallen apart over time. I have tried my best to patch and repair them with denim and a ready-made patch of a fish that reads, "Kiss my Bass." They are not an everyday jean but I really do love them.

Carved in Blue: What does Carved in Blue mean to you?
Mary: Carved in Blue means a love and appreciation for all things denim. The evolution of the fabric of denim and the shape of jeans. How they change every season and how we continue with our curiosity.
The founder of Life After Death Denim (@LifeAfterDeathDenim) Mary N Bruno has been developing denim for almost 25 years for some of the biggest and best American brands. When she began development of the new brand and collection almost a year ago, she knew any brand launched today would need to be sustainable in every way possible. This is why Life After Death Denim's guiding principles include developing a Denim collection using only recycled fabrics and trims, using zero chemicals in the development of washes, reducing water usage as much as they possibly could (they made it to 85% ) and using dead-stock components and scraps whenever possible. ⠀
⠀
Sounds simple? Not really! ⠀
⠀
With a lot of trial and error, they got there and are happy to be showing the Life After Death Denim collection at Capsule New York Women's as part of The High St. Showroom booth E2! ⠀
⠀
_⠀⠀
_⠀⠀
SS18 CAPSULE NEW YORK WOMEN'S & ACCESSORIES⠀
Saturday September 16 - Monday 18 ⠀
Pier 94, NYC⠀
#CapsuleShow #ThatNewNow #NYFW⠀
@ Pier 94